Maternity clothes – What to buy
Once your pre-pregnancy garments are starting to feel a little tight, it's time to start buying those all-important maternity clothes. But what to buy? Though it can be tempting to run out and clear every maternity section in the shopping centre, you don't need to go spend-crazy. Here's a list of all the basics you need to complete your maternity wardrobe:

Everyday essentials There are some basic wardrobe items every mum-to-be needs as her tummy starts to grow. Stock up on a few good pairs of stretchy leggings and tights to help you feel ultra-comfortable and look stylish for even the most casual occasions.

It's also important to keep your bump warm, especially if you're pregnant during the winter months. Get yourself a maternity cardigan or sweatshirt to wrap up in when the weather turns chilly.

It's easy to overlook underwear when you're buying maternity wear, but it's important to feel comfortable underneath your clothes too! Your breasts will begin to change around eight to ten weeks into your pregnancy, and eventually you'll start to outgrow your usual bras. You'll need a comfortable maternity bra, so you'll feel at ease and avoid the double-decker look under your tops and shirts!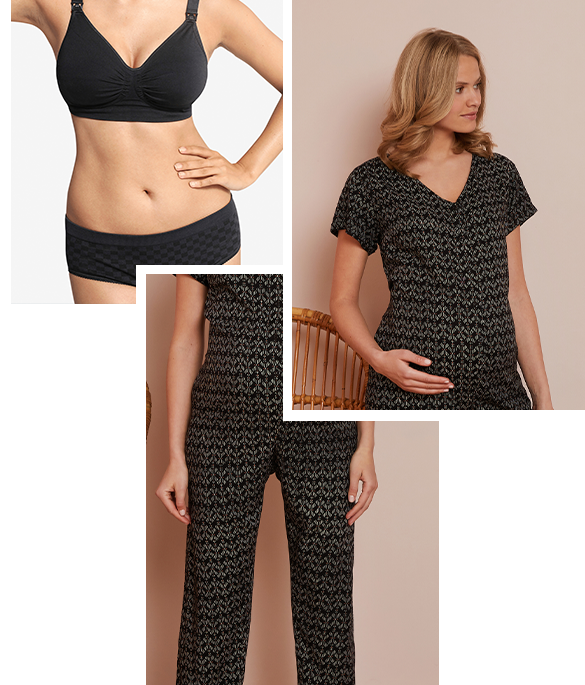 Vertbaudet recommends
• Leggings – Leggings look fashionable under a pretty dress or tunic and you don't have to worry about sizing, as Vertbaudet leggings take your changing shape into account.

• Cardigans – Perfect for pulling off that casual chic look with minimal effort!

• Bras – You'll look and feel beautiful in our Maternity bras, and you can even wear them for nursing once your baby is born.
Maternity must-haves
Once you've got the basics covered, you'll need to start shopping for those essential maternity must-haves!

Start with a cosy yet cool pair of maternity jeans. This wardrobe essential goes with every outfit and will look great with all your shoes, making them a go-to for any occasion. Plus, a stretchy waistband for added bump comfort, yes please!

For casual daywear, you'll need some comfy t-shirts and tops to pair with your fancy new jeans. Whether you like long sleeves, short sleeves or even vest tops, there is plenty of choice out there to suit your style. You can even team them with a chunky-knit cardigan for an effortless casual look that will be the envy of all other mums-to-be!

If you're a serial dress-wearer, there's no reason to switch to leggings and jeans when there's a baby on the way! Maternity dresses look gorgeous, whether you're wearing a pretty summer frock or a formal number for a party. There are plenty of maternity dresses that skim over your bump to give you a floaty, glamourous style without looking like you're wearing a tent!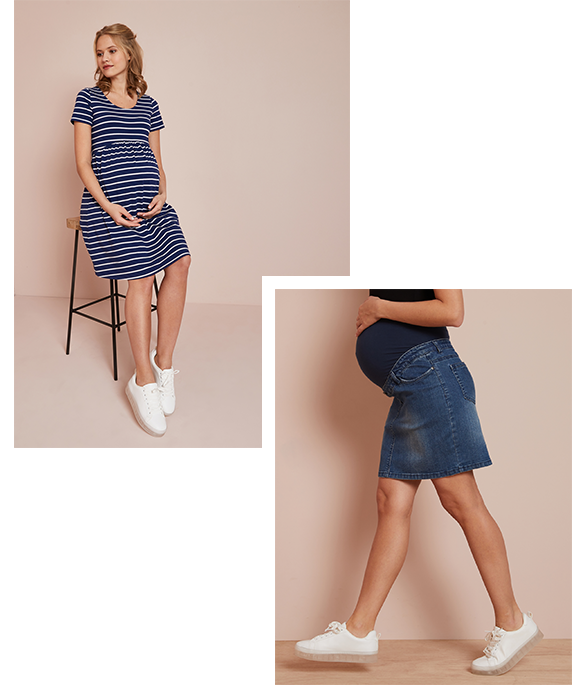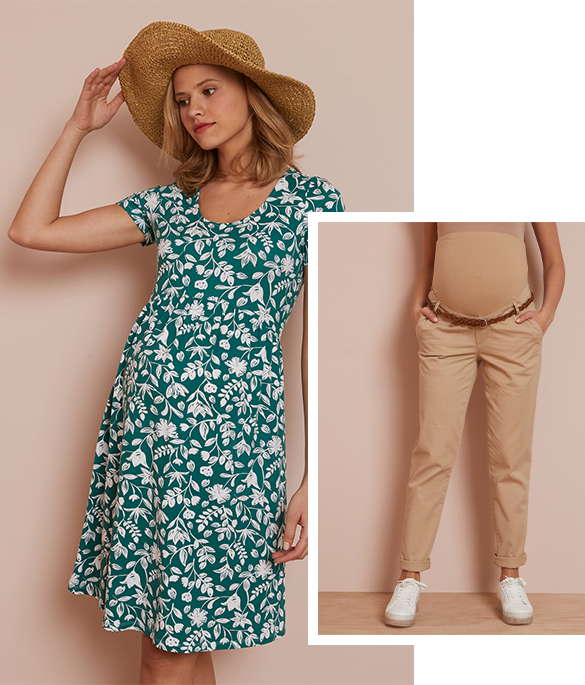 It's important to wrap up warm when you go outside, so we highly recommend buying yourself a good maternity coat to get you through the cooler days during your pregnancy. An edgy jacket or trendy parka will look gorgeous paired with a matching hat, scarf and gloves combo on a crisp autumn walk, giving you a timeless look that will inspire mummies-to-be everywhere.

All new mums are beautiful, but sometimes it can be hard to feel good if you're feeling self-conscious. If you're worried about any unwanted lumps and bumps, why not invest in some post-pregnancy shapewear? This will allow you to re-sculpt your silhouette, giving your curves a gorgeous, re-defined look.

Vertbaudet recommends
• Jeans – Our denim delights have adjustable waistbands to accommodate for your growing baby belly, so you'll always feel great and avoid looking like your jeans don't quite fit!

• Tops – Nothing looks more effortlessly stylish than a statement t-shirt teamed with jeans and boots. Our printed tees celebrate how adorable you look and adapt to you're growing bump.

• Dresses – Our dresses are perfect for both casual and formal occasions, we have pretty dresses with elegant scoop necklines, which will ensure you look glamourous whenever you wear them.

• Coats – Our 3-in-1 parker is an innovative coat and it can be worn before, during and after pregnancy, thanks to a stylish removable panel designed to protect your little bundle of joy from the elements!

• Knickers – Our knickers and shorties have cute designs & are super comfortable. Our knickers come highly recommended for during & after pregnancy.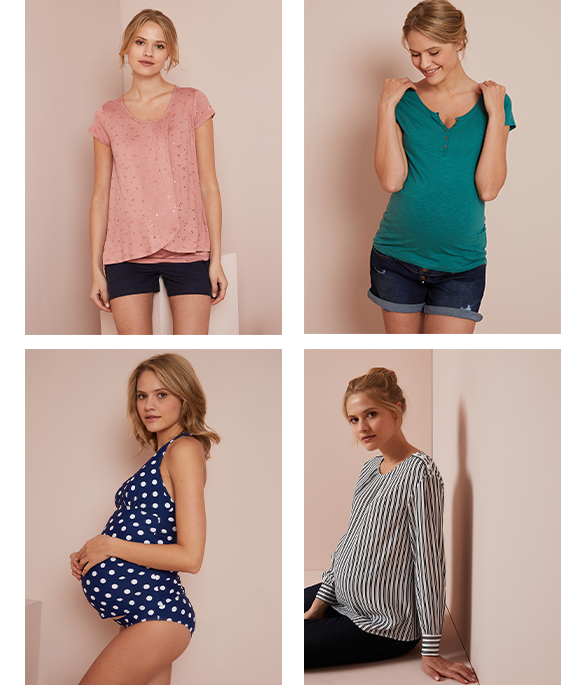 Size guides
All our maternity clothes are designed to adapt to your growing bump and new shape, so you can order your pre-pregnancy sizes. That said, bumps can change from day to day and every bump is different, so if you're unsure what size to buy, check your measurements against our maternity size guide to make sure you get a comfortable fit.
Maternity fashion tips
So now you know what to buy, we've put together a quick list of easy fashion tips to help you make the most of your maternity style!

• Fix feelings of self-consciousness with a Maternity Dress – we promise this will help! Everyone knows black is a slimming colour, and you can wear this day and night and it will always look stunning.

• Keep shoes comfy – your feet are likely to swell as your pregnancy goes on, so it's well worth choosing some wide-fit, comfy shoes to match your favourite maternity outfits. You'll look casually cool and your feet will thank you!

• Avoid those bigger sizes! – it's easy to assume bigger clothes will hide your bump, but in reality, it can make you look a little bulky. I nstead, choose loose fits or A-line styles in your own size that will skim over your bump whilst still maintaining a delicate, feminine style.

• Choose colour – colourful clothes make us happy! Why not experiment during your pregnancy and choose bold colours and prints you wouldn't normally touch? Who knows, you might discover a trend worth keeping afterwards!

Ready to start maternity shopping?
If you know what you need and can't wait to start shopping, check out our full maternity range for everything you need to look and feel beautiful throughout your pregnancy!