Halloween Decorations & Outfits for Kids
Full of spooky fun, Halloween is a favourite for little and big kids alike. Get stuck into the party spirit with our ghoulish guide to all things Halloween . From DIY Halloween costumes to party food ideas, you'll find everything you need to make the most out of this year's spooky season.
You could even start planning a Halloween party with our affordable ideas, should you want to impress the neighbours with creepy costumes and devilish decor.
Why do we celebrate Halloween?
Dating all the way back to 500 BC, Halloween is one of the oldest holidays still celebrated to this day. It's thought to mark the point in the year when the seasons change as, when it was first introduced, the Celtic tribes celebrated a holiday known as Samhain to welcome the start of winter. Nowadays, Halloween is a day of fun for little ones. They get to dress up, eat sweet treats and have a fun-filled night - what could be better?
No matter what you're planning this Halloween, we're sure your little monster will have a fabulously spooky time with our tips.
Halloween costumes for kids
Whether your little one wants to look like a pretty princess or a scary dinosaur, we have you covered. We offer a large selection of dress-up and spooky Halloween costumes, allowing kids to choose the perfect outfit for them. Here are some of our favourite Halloween ideas for kids:
Harry Potter or Pokémon
Whether they'd prefer to be a witch or wizard at Hogwarts or a Pokémon, Halloween is the perfect time to transform into their favourite characters. We have a selection of Harry Potter merchandise that can be easily used as a costume - just simply wear a black robe over the top. Not only that, but we stock children's Pokémon that allows your little one to show off their style all year round.
DIY Halloween costume ideas
If you're on a budget or are a little pushed for time, you can still put together a fab DIY Halloween costume that your child will love and look great in. For example, you can take a pretty black dress – add a witch's hat and broom, and voila! Your little one will be transformed into a glamorous, party-ready witch.
Alternatively, add a pair of glitzy wings for a spooky Halloween fairy. You could also take a trendy pair of camouflage trousers as a comfortable base for your little one's zombie look, or a pair of dark leggings to create a Halloween bat or cat. All you'll need is a bit of face paint and some cute accessories.
Halloween decoration ideas
Whether you're throwing a ghostly get-together or greeting trick or treaters, make sure your home lives up to the haunting vibe with our Halloween decoration ideas. Easy to do and lots of fun, your little monsters are bound to delight in creating these adorably spooky decorations. They're also the perfect choice for Halloween parties, as they're cheap to make yet a total treat.
How to carve a pumpkin
Halloween wouldn't be the same without a glowing orange pumpkin on your doorstep. The kids will be mega excited to get involved with this spooky Halloween activity, but make sure to keep those little fingers safe. Handle all the knife work yourself and let your little one do all the fun, creative stuff, like designing the pumpkin face.
Step 1
Using a sharp serrated knife, cut around the top of the pumpkin to remove the circular 'lid'.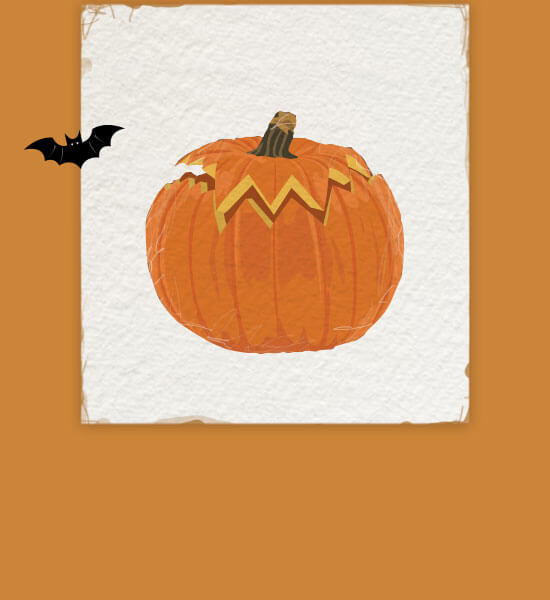 Step 2
Grab a big serving spoon and scoop out the pumpkin's innards, which is made up of seeds and stringy fibres. Your little one can help with this part; they're sure to find this super fun, if not a little bit icky.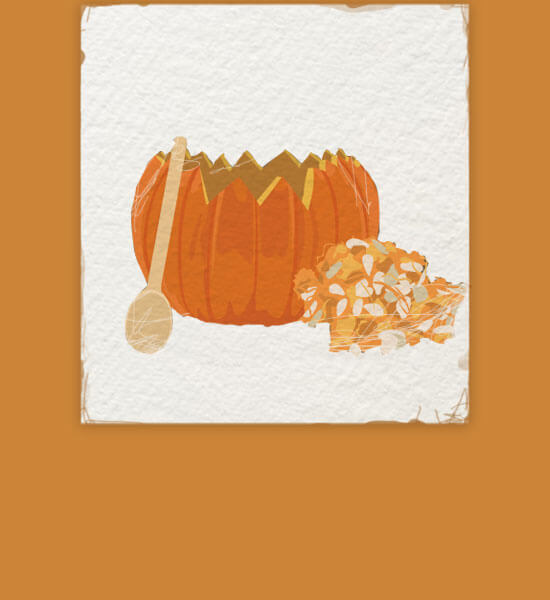 Step 3
Get your little ghoul to draw the outline of a spooky face on the pumpkin. Then, use a smaller serrated knife to cut out the shapes, making sure you cut away from you as pumpkins can be slippery to carve.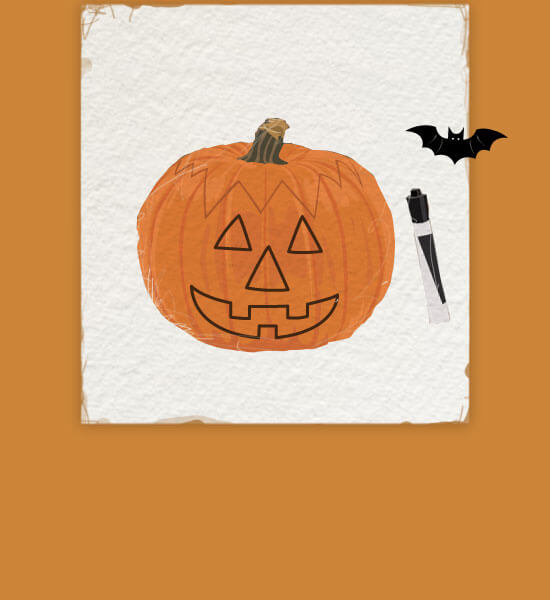 Step 4
Put a tea light candle inside the pumpkin, light it and pop the lid back on. When it goes dark, your party will have an eerie orange glow.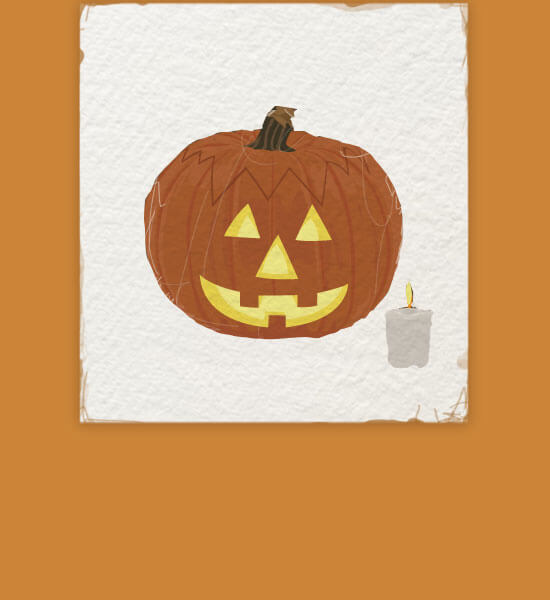 Indoor Halloween decorations
Don't forget to decorate the inside of your house, too. There are plenty of ways to spook up your house to create the perfect Halloween ambience.
Our favourite ideas include:
Magnetic spiders
What better way to create a Halloween vibe than by having an army of spiders invading your magnetic surfaces? To create this look, get some shop-bought spider decorations and hot-glue them to magnets. The kids will take great pleasure in arranging them across your fridge and radiators!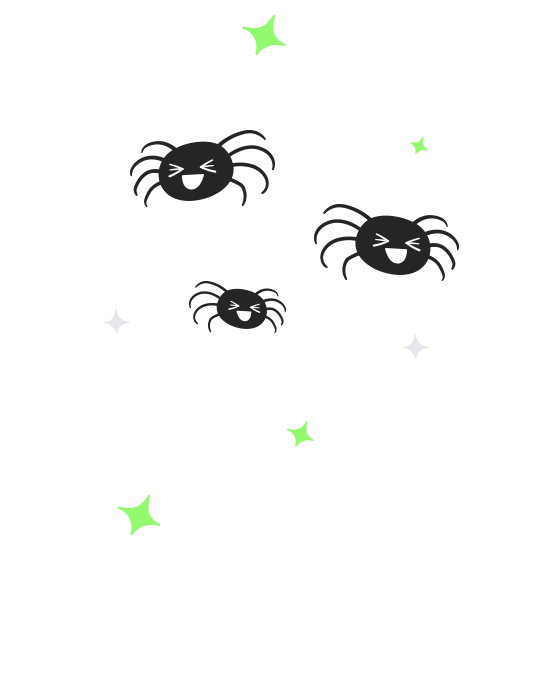 Cardboard bats
This one is super easy. All you need to do is create a little bat template and cut around it onto black cardboard or construction paper. You and the little ones can then arrange the bats around your home for a simple but spooky Halloween effect.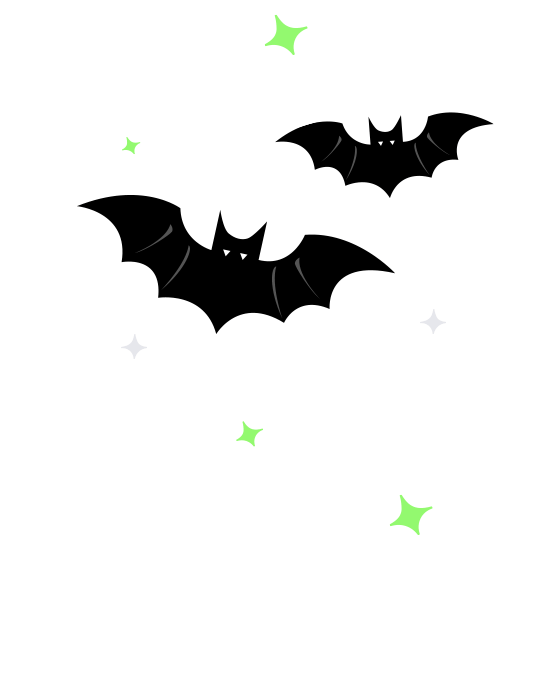 Balloon spiders
To create a balloon spider, all you need is a black balloon and some black crepe paper. Arrange these into a spider shape and place them in the corners of a room for a creepy decoration that will spook your guests.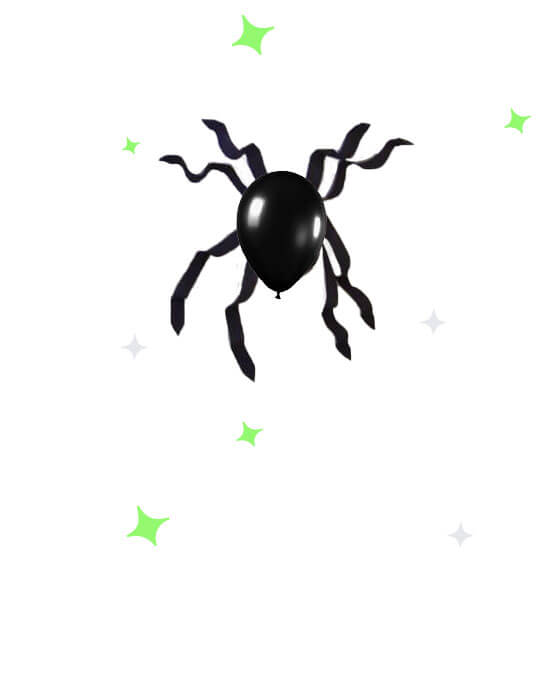 Spooky silhouettes
To make these, simply get some creepy cardboard cut-out templates of your little ones' favourite Halloween characters (or make your own) and attach them to a candleholder. Once the candle is lit, your walls will burst into life with pumpkins, cats, ghosts, witches or whatever creepy critters you choose!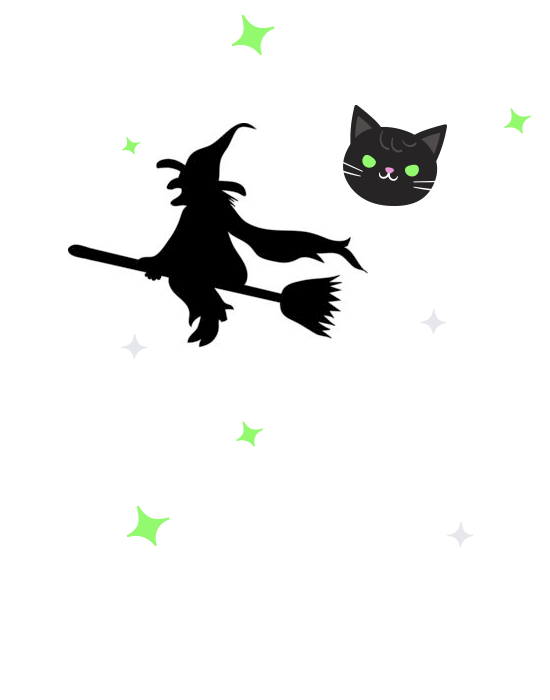 Halloween party games ideas
Once you've decided on the family's Halloween costumes, you can turn your attention to the best part of all - the games.
Whether you're staying in or inviting others to join you, Halloween games are a great way of continuing the fun once you've finished trick or treating.
Apple bobbing
Apple bobbing is a traditional Halloween game that's fun for all the family. All you need for this exciting little game is a big bucket or tub filled with water and some apples for bobbing. Grab the apples with your teeth - no cheating with your hands! It might also be worth laying some towels down to protect your floor from splashes.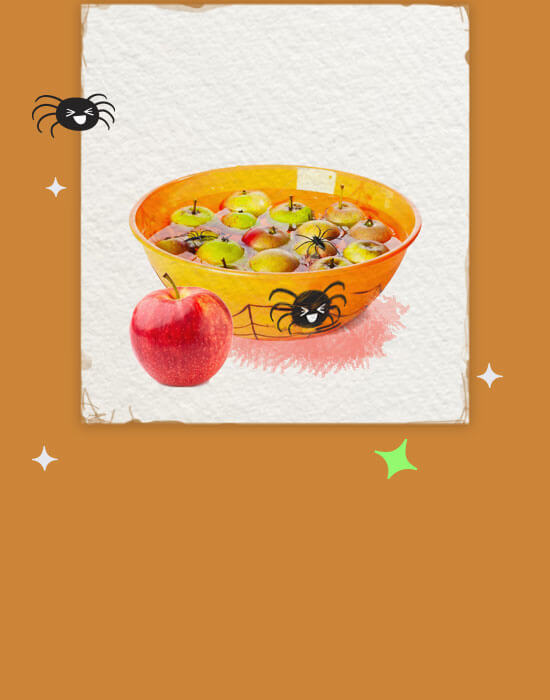 Mummy bowling
This is more off a modern party game idea that kids are sure to love. Simply wrap up some plastic bowling pins in toilet paper and stick on some googly eyes for a creepy mummy look. The little ones can then take turns at knocking down the pins in this classic game with a Halloween twist.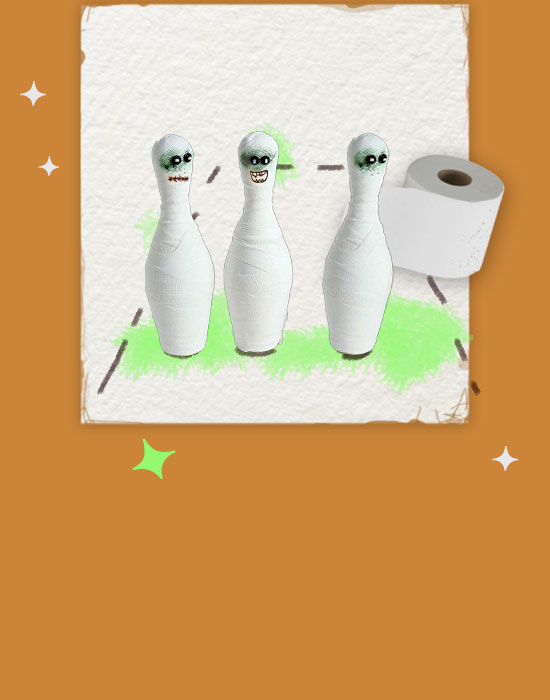 Pin the bowtie
This game is a twist on the classic 'Pin the Tail on the Donkey' version, which everyone knows and loves. Start by printing off or drawing a skeleton, stick it on the wall before cutting out a bow tie large enough to place on it. Place a bit of sticky tack on the back before blind-folding your little one and getting them to find the perfect spot for the tie - or try to, at least.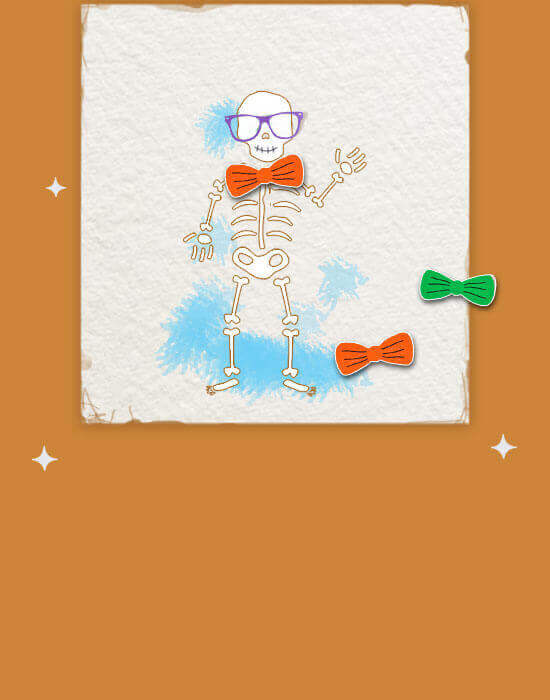 Witches ring toss
Grab some Halloween witches hats, making sure they stand up on their own and have a triangle shape. All you need to do is find some rings that fit at least halfway down the hat with ease. Arrange the hats in the form of a triangle, stand a couple of feet and see how many rings you can get over the hats. You can use as many hats as you'd like, as it works with just one.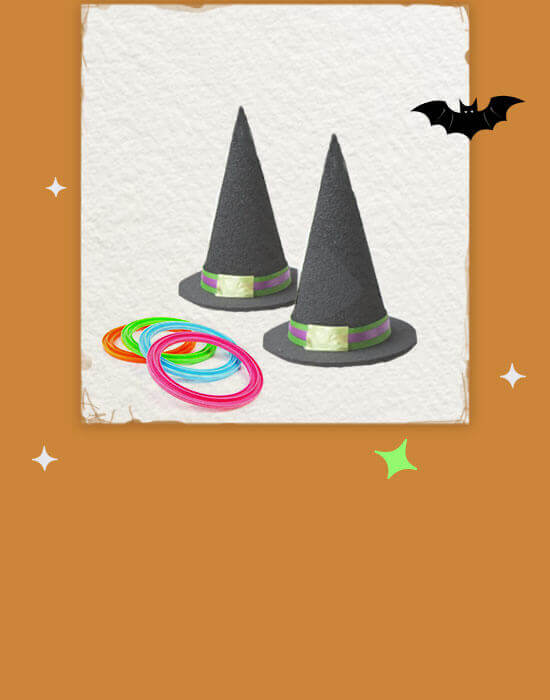 Halloween party food ideas
Keep rumbling tummies at bay by laying out a delicious Halloween feast at your party. If the thought of cooking lots of food on the day of the soiree sends a shiver down your spine, don't worry.
We've got a few low-effort party food ideas that are easy to make and that kids will adore.
Halloween Trail Mix
This is a great snack because you can chuck in whatever you and your little ones like best. We recommend Bugles to act as witches' hats, Halloween-themed sweets, pretzels and dried fruit, but you can use anything you like. Simply throw everything into a bowl, mix and serve.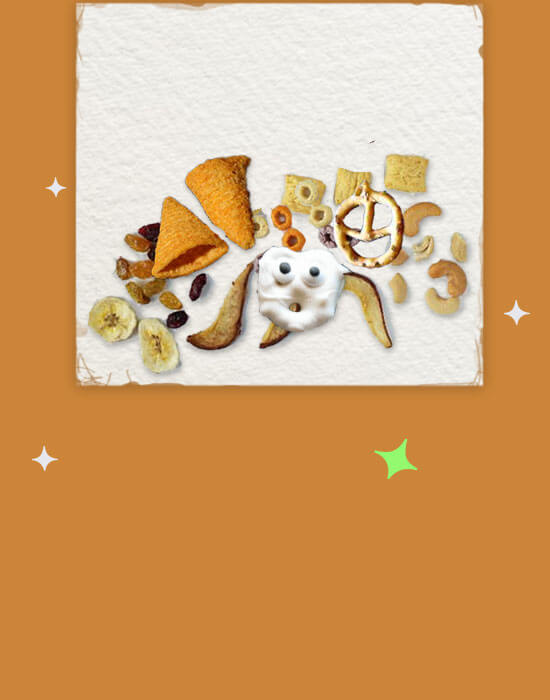 Deadly dentures
These scary snacks look brilliant and are super easy to make. The first step is to mix a tub of vanilla frosting or buttercream with some red food colouring. Then, chop some chocolate chip cookies in half and spread the red mixture onto one side of each half. Sandwich a few mini marshmallows between the cookie halves to make teeth and you've got yourself a set of deadly dentures.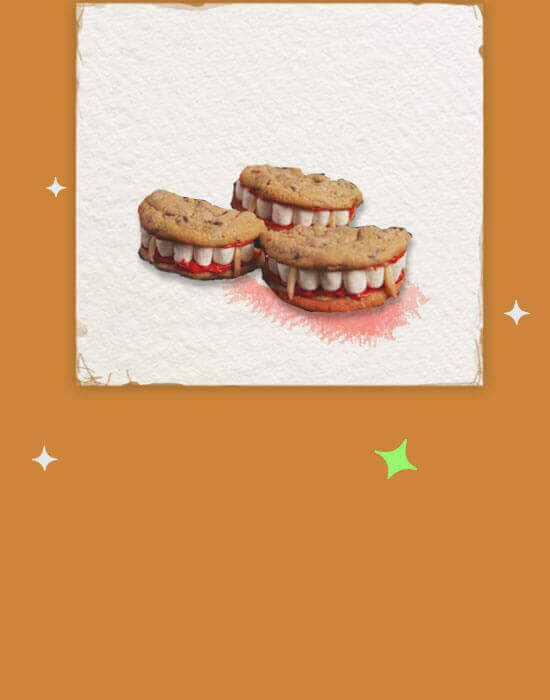 Spider eggs
This is another healthy option for little ones that takes very little time to put together. All you need to do is hard boil eggs, cut them in half and decorate them with olives that have been sliced four times on each side so they look like creepy yet delicious spiders.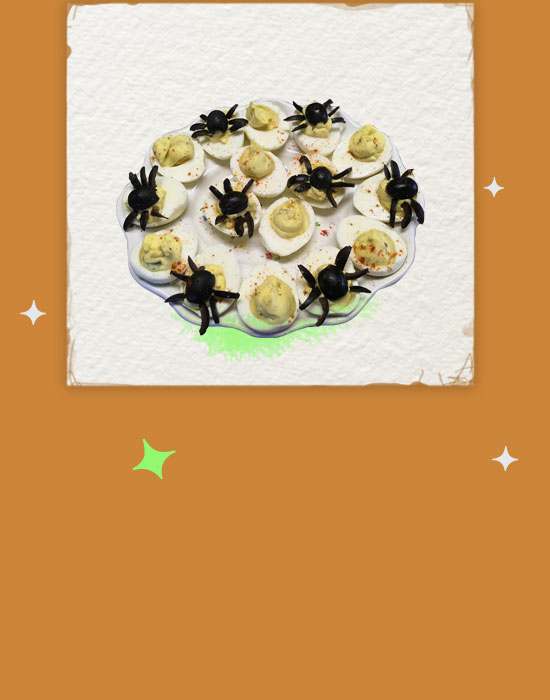 Ghostly fruit kebabs
For this, you'll need skewers, fruit (we like to use melon and strawberries, but you can choose whatever you and the kids like best) and some marshmallows. Simply slide the fruit and marshmallows onto the skewers, then dip a cocktail stick into some black food colouring to draw spooky faces on the marshmallows, transforming them into little ghosts.