BABY CLOTHING
BLACK FRIDAY BABY DEALS
Enjoy our amazing discounted baby clothing Black Friday deals and grab yourself a bargain. The perfect time to get some Christmas shopping done, you'll find a plethora of gorgeous baby clothes, accessories and maternity wear at incredibly low prices.

We pride ourselves on our adorable designs and high-quality materials. You can be confident that you're getting a great deal on our baby clothing Black Friday deals. Check out some of our favourite discounted products right here.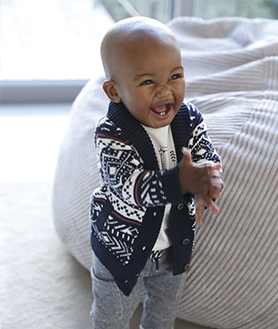 BABY CLOTHES BLACK FRIDAY
With a selection of cute baby clothes, nursery furniture and maternity wear on offer, you'll find the perfect gift in Vertbaudet's Black Friday range. Whether you're treating yourself or a parent who is expecting, you'll get a great deal with our exciting discounts. Here are some of our favourites included in our Black Friday range.
FAQs
When is Black Friday 2020?
Black Friday occurs the day after Thanksgiving, meaning it falls on Friday 27th November this year. It typically lasts all weekend, leading onto Cyber Monday.

What does Black Friday mean?
Black Friday is the chance to grab a bargain from Vertbaudet, with reduced prices and great deals on all of our adorable baby range. Often thought to be the official start of the Christmas shopping season, it allows you to snap up the perfect gift as an incredibly discounted rate.

We offer a selection of baby clothing Black Friday deals, which are the perfect gift for new parents and busy families. Whether you're looking to fill up your baby's wardrobe or need some accessories to assist your parenting journey, do so on Black Friday to grab those discounts.

When is the best time to find Black Friday deals?
Here at Vertbaudet, we make sure to leave plenty of time for you to snap up our fantastic offers. If you want to snag anything in particular, we recommend shopping as soon as our event starts; this could be a the day before Black Friday. If you're just looking for a bargain rather than anything in particular, you don't have to worry. Our Black Friday deals usually continue for a few days after Black Friday, so you have plenty of time to shop our incredible discounts.

How soon will get my order from the sale?
We aim to get all parcels delivered as soon as possible. Please be aware that Black Friday can sometimes delay couriers and mail services, although we work hard to avoid this.

Does Vertbaudet have a Cyber Monday sale?
We sometimes extend our Black Friday sales further than the typical day, however sometimes the deals do change for Cyber Monday. This way you can shop in both of the Black Friday & Cyber Monday deals and pick up something different from each

Now that you know what to expect, you can start browsing our amazing discounts now. Whether you're looking for cute baby clothing deals or some new maternity wear, you'll find it at an incredible price on Black Friday.